Point Fire, 1995
&
Island Fork Fire, 1999
dedication
---
Point Fire Case Study
---
Point Fire Accident Investigation
A. Point Fire Overview
B. Investigation
Entrapment Investigation Element Matrix and Entrapment Investigation
Ten Standard Orders, 18 Situations that Shout "Watch Out"
D. Supporting Data
Organization Charts
Site Investigation
Fire Behavior Report
Property Damage Report
Witness Statements
Outline of Kuna Wildland Training Provided by BLM
E. Records and Reports
Preplanned Dispatch
BLM Radio Transmission Log
Ada County Dispatch Log
Fire Incident Status Summary
Escaped Fire Situation Analysis
Wildland Fire Entrapment Report
Technical Analysis of Personal Protective Equipment
Vehicle Inspection
Weather Reports
F. Glossary
——————
Island Fork Fire Accident Investigation
Findings
Causal Factors
Recommendations
Appendices
——————
---
Point Fire — U.S. District Court Civil Case
Ruling on I.C.'s Decisions - Nov. 10, 1998
• Factual Background
• Legal Analysis
Ruling on BLM Liability - Feb. 19, 1999
• Findings of Fact
• Legal Standards
• Analysis
Ruling on Public Safety Officer Benefits (PSOB)
——————
——————
Colorado Firecamp extends special thanks to Linda Perkins, BLM Idaho State FOIA Coordinator, for her friendly assistance in gathering the Point Fire documents. BLM FOIA Letter

Kentucky Division
of Forestry

Report of the
Accident Investigation Team
for the
Island Fork Fire

April 6, 1999 • Near Cranston, Kentucky
---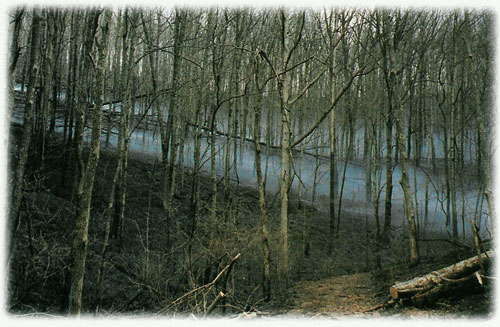 ---

The Kentucky Division of Forestry thanks the U.S.D.A. Forest Service and the Daniel Boone Firefighters Association for their assistance in the preparation of this report.

---
Stephen F. Pedigo
Forest Supervisor, Rio Grande National Forest, Region 2
Team Leader

John Stivers
Safety Officer, U. S. Forest Service, Region 8

Team Member

Charles E Wilburn
District Ranger, Kentucky Division of Forestry

Team Member

Dale Adkins
President, Daniel Boone Firefighters Association

Team Member

Dick Mangan,
Fire/Aviation Program Leader, MTDC, Missoula, MT

Technical Specialist

Glen Fortenberry
TMA, Pleasant Hill Ranger District, Ozark National Forest

Technical Specialist, Fire Behavior

Mike Gay
Supervisory Law Enforcement Officer, Daniel Boone National Forest

Technical Specialist, Law Enforcement
Virginia Fields
Business Management Assistant, Daniel Boone National Forest
Technical Specialist, Information Specialist
---
In Memory of
Kevin Rex Smith
and
Kenneth Allen Nickell
Volunteer firefighters of the Route 377 Volunteer Fire Department who perished on the Island Fork Fire due to the unforeseen interaction of strong wind and complex terrain. This resulted in a rapidly spreading, high intensity fire that prevented them from wing escape routes to reach the safety zone or burned-over area.
---
Table of Contents
Executive Summary
I
Fire Progression Map
III
Vicinity Map
1
Introduction
2
Sequence of Events
3
Findings

Fire Behavior

5

Environmental Factors

6

Incident Management

7

Control Mechanisms

9

Involved Personnel Profiles, Equipment, General

10
Significant Causal Factors

Flame Lengths, Wind, Spot Fires, Terrain

11
Conclusion and Commendations
12
Recommendations
13
Appendices

Appendix A: Environmental Factors, Weather, and Fire Behavior

16

Appendix B: Organization/Control Mechanisms

20

Appendix C: Fire Personal Protective Clothing and Equipment

21

Appendix D: Evaluation of 10 Standard Fire Orders and 18 Watch-Out Situations

23
---
---
<<< continue reading—Island Fork Fire Investigation, Executive Summary >>>