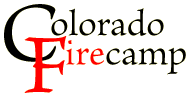 ***roster full - March 10-13, 2022 - waitlist***
Apirl 7-10, 2022
April 28-May 1, 2022
May 12-15, 2022
June 2-5, 2022
June 30-July 3, 2022
July 21-24, 2022
August 11-14, 2022
September 8-11, 2022

Cost: $575 includes tuition, books, meals & lodging. Agency sponsorship is not required. Apply online now.
List of items needed for class is posted with S-130/190 class details.
Daily bus service to Salida departs from downtown Denver at 1:45 pm with a one-way cost of about $29 on the Bustang, Gunnison-Denver route. Light rail train service departs every 15 minutes on RTD University of Colorado A Line between Denver International Airport and Union Station in downtown Denver, with a ticket cost of $9 each way. Schedule your flight arrival time for 11:30 am or earlier on the day prior to your class start for the bus connections to Salida. Extra night of lodging costs $25. Firecamp staff will pick-up and drop-off students at the bus stop in Salida at no charge.
---
---
---
Introduction to ICS
---
---
S-130/190 Firefighter Training
and Introduction to Wildland Fire Behavior

---
Avue Digital Services — Applying for a Job with the Forest Service
Quick Reference Guide on How to Apply for Jobs Online
These steps are to be used as an outline of the basic steps to follow when applying for a job online. Specific instructions for performing these steps are provided within this ADS Applicant Manual.
1. The Applicants creates an applicant profile in ADS
Access ADS at www.avuedigitalservices.com/usfs/applicant.html and clicks on the Forest Service shield to login.

Click on NEW USER. Enter all fields in the New User Registration window. Indicate where you heard about this site by clicking on one of the options.

Click on CREATE OR UPDATE MY PROFILE. Complete all section (Personal Information, Applicant Information, Work History, Eligibilities, References, Education Background, Additional Information, and Attachments). Click on Save at the bottom of each screen.

Click on ATTACH RESUME AND SUPPORTING DOCUMENTS to attach supplemental documentation, such as college transcripts, a resume, or a DD-214.

Return to the main menu by clicking on the icon in upper left corner of the screen.
2. The Applicant applies for Jobs Online
From the main menu, click on APPLY FOR JOBS.

Jobs you are eligible to apply for will appear on your screen. If you are interested in applying for more than one job listed, you may click on those you wish to apply for and add them to your shopping cart.

Click on the title of the job you wish to apply for. The vacancy announcement will appear with a menu bar on the left side.

Click on APPLY NOW to apply.

Each field in red or marked with an asterisk (*) must be completed before you submit your application. You will see a series of statements designed to evaluation your education and experience in relation to the knowledge, skills, and abilities required for the position. Follow the onscreen instructions, which will indicate whether you are to select all statements that apply to you, or the one statement that best describes your education or experience.

NOTE: For education, enter ONLY those hours that relate to the type and level of education described. For example, if graduate education is described, enter credit hours obtained in graduate courses.

You may save any edits you have made, exit ADS, and return later to continue working on your application.

To print a copy of your application, click on THIS APPLICATION under the View and Print menu.

Click on SEND APPLICATION to submit your application. You will be asked to certify that the information you are submitting is true. Once you have certified your application, click on SAVE AND SUBMIT.

You may RETURN TO APPLICATION or RETURN TO VACANCIES to continue. Or you may exit by clicking on the QUIT button in the lower right corner of the screen.
3. Updating Your Applicant Profile
To update your applicant profile, click on JOBS I HAVE APPLIED FOR from the main menu. Click on UDPATE PROFILE. Make any necessary edits to your profile. You must certify and resubmit your updated profile for the changes to take effect.
4. Reviewing the Status of Jobs You Applied For
You will receive an email message from the Forest Service indicating that your application was received.

From the main menu, click on JOBS I HAVE APPLIED FOR. The jobs you have applied for will appear on the screen with the current status of each.
5. Hard copy applications
Applicants who cannot apply online via ADS should request the instructions and form from the contact listed on the front page of the vacancy announcement

---
<<< continue reading — Avue Digital Services, Creating, Saving, and Updating Applicant Information >>>