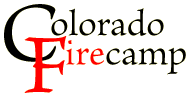 Fire Instructor I
January 19-22, 2023
May 18-21, 2023
September 14-17, 2023
---
---
Download the Fire Instructor I flyer (98 kb) and Firecamp Application (170 kb) in PDF format.
---
Poinciana, Florida Live-Fire Training Deaths — July, 2002
Lt. John Mickel and Dallas Begg Act
NIOSH Report, 2002-34
Florida State Fire Marshal Report
Preventing Deaths and Injuries to Fire Fighters during Live-Fire Training in Acquired Structures, CDC Workplace Solutions — November, 2004
---
Links to Instructor Resources
Colorado Fire Training Officers Association
Colorado Division of Fire Prevention & Control
Maryland Fire and Rescue Institute Drill of the Month
FirefighterCloseCalls.com Weekly Fire Drills
Poinciana Training Deaths.
Video of Live-Fire Training Exercise
July 30, 2002
Download Poinciana .wmv clip, 3.5 mb.
Raw video footage, scene photographs and radio recording released by Florida Division of State Fire Marshal, Bureau of Fire and Arson Investigations.

Listen to Billy Goldfeder's Through the Smoke broadcast , "LIVE FIRE TRAINING? Get'm in There and DO WHAT?" — from February, 2006 on Radio@Firehouse.Com.