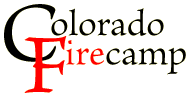 October 15-18, 2020
November 5-8, 2020
March 18-21, 2021
April 15-18, 2021
May 13-16, 2021
June 3-6, 2021


Cost: $675 includes tuition, meals & lodging.
---
---
---
Freeman Reservoir tree felling fatality, 72-hour report & OSHA citation — June, 2009
Andrew Palmer Fatality, Dutch Creek Incident, — June, 2008
---
---
---
---

The student faller is already out of the picture as instructor Jeff McGinnis steps back from a falling tree with wedges drooping from the backcut.
---
Below is the list of what students need to bring to S-212 class. Please let us know in advance if you have difficulty bringing any of these items. We have several chain saws and a limited amount of other equipment available for student use. If you need to purchase items while you're in Salida, visit Pro Logger & Lawn (our local Stihl dealer /repair shop) or Murdoch's Ranch & Home Supply (Husqvarna dealer) for just about everything on the list:
Approved hardhat (full brim or cap style).
Wrap-around eye protection (safety glasses or shield).
Hearing protection (earplugs or muffs) with NRR (Noise Reduction Rating) of 20 or more.
Gloves that are slip-resistant and appropriate for the weather conditions.
Long-sleeved shirt appropriate for the weather conditions. Nomex is optional during the field exercises.
Cut-resistant boots with non-slip sole (generally, leather with Vibram-sole.)
Approved chain saw chaps.
Incident Response Pocket Guide.
A chain saw equipped with a 20-24" guide bar in good working condition, with chain brake and saw tool kit with owner's manual for your chain saw.
Owner's manuals can be downloaded from the manufacturer websites:


A 3-5 pound falling axe, wedges and wedge pouch.
An approved fuel container, with a fresh mix of the recommended 50:1 gasoline/2 cycle oil ratio; and chain saw bar oil.
---
---

No, really, we don't hire models for the photos at Colorado Firecamp, but we do model safety. Instructor Dave DePetro (middle) stands with aspiring firefighters Alex Lorack (left) and Mike Phillips as they assess the next tree to cut for their field evaluation. In case you're wondering about the latest fall fashions in faller apparel...each is wearing the new Firecamp sawyer t-shirt in designer black, with chainsaw safety advice printed on the long sleeves, accessorized by the 5-point tear-away safety vest, in student orange and instructor yellow.